It's been a rocky 18 months or so for many people and money has been tight so our friends at Worldwide Golf have put their heads together with Al Hamra Golf Club to come up with a deal that we still can't quite believe is real.
Introducing, the Worldwide Golf Society Showdown. This 4-person team event, taking place Friday October 15th on the stunning Peter Harradine-designed Al Hamra course, will pit the region's golf societies against each other to decide once and for all, who the top dogs are. Throw in a bacon butty on arrival, three-hour all-inclusive drinks package after play, live music on the terrace, and a DJ to finish the evening off as well a room for the night at the exquisite DoubleTree by Hilton Resort & Spa on nearby Marjan Island with breakfast and you have yourself the recipe for one heck of a weekend away in Ras Al Khaimah with your golfing buddies. We know what you're thinking – golf, drinks, hotel stay…it's going to be pricey. But you're wrong. We're offering all of the above for the insane price of AED 595* per person!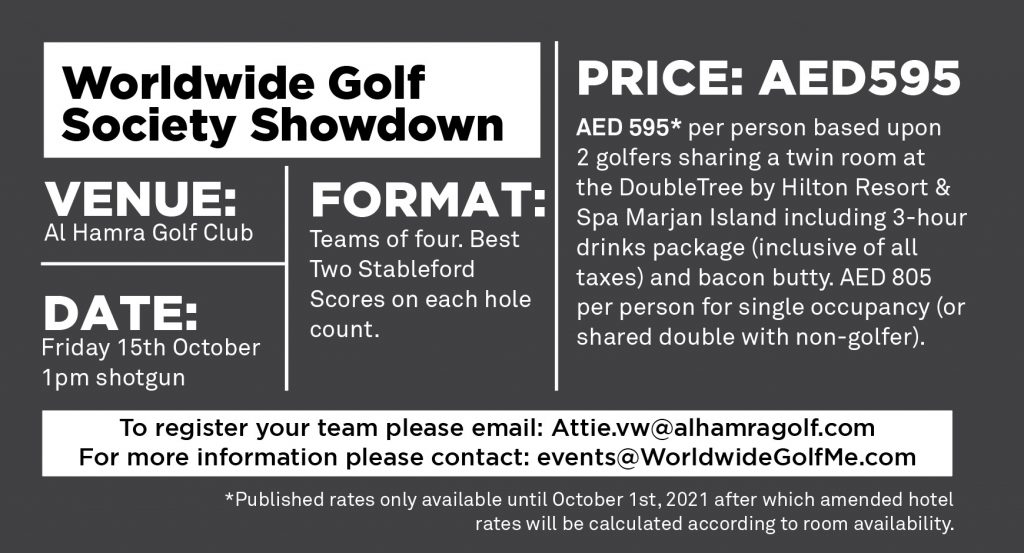 NON-SOCIETY MEMBERS WELCOME
You don't even need to be a member of a golf society to benefit from this insanely good deal – just get together with three of your pals, give yourselves a team name, and you're free to enter as a 'mini-society'. "We wanted to come up with an event that brought the UAE golfing community together and one that was more about creating a fun and highly affordable stay and play experience for them than making money!" said Worldwide Golf's General Manager, Rick Bevan. "It's a light-hearted, relaxed event so there won't be a black tie in sight and we're sure everyone who takes part will have a great time!"
Craeg Deery, Sales & Marketing Manager at Al Hamra Golf Club added: "We had fantastic success with a lot of groups, societies and stay and play guests last season, enjoying everything that Al Hamra has to offer. Our goal is simple – if we create a fun and enjoyable atmosphere combined with a great golf course and excellent service standards then we know our guests will return again and again. "Pork breakfasts, fantastic F&B offers as well as live entertainment on the terrace post golf makes for a great day and weekend.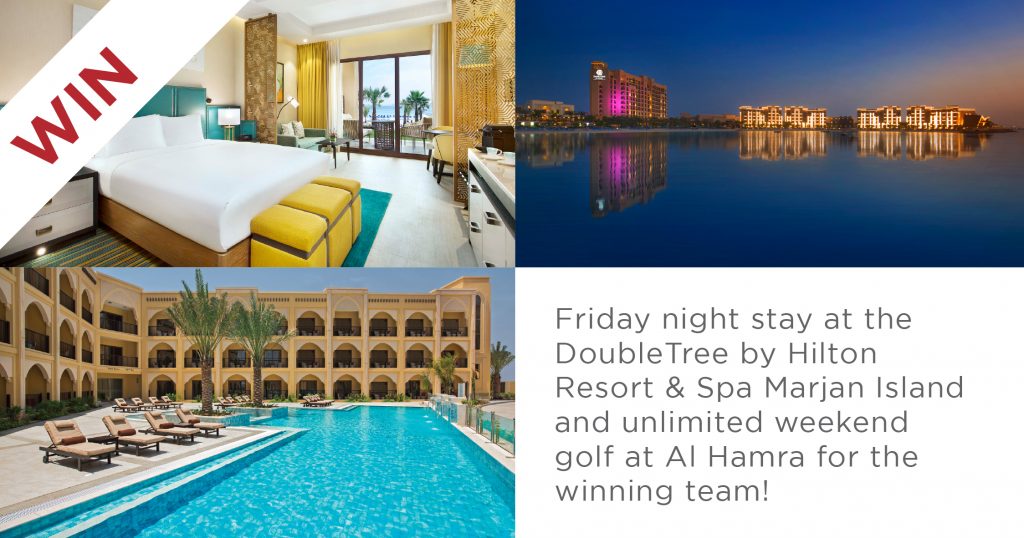 "Most of our guests make a weekend of it opting to stay in one of our partner hotels such as the Double Tree Hilton on Marjan Island and this season we have the addition of the stunning Hamptons property all within 5 minutes of the Golf Club. To differentiate ourselves from the competition, our aim is to be able to include your hotel and other add-ons like drinks in a stay and play package that comes as close as possible to what guests are charged just for their green fees in other Emirates."
BEAUTIFUL COURSE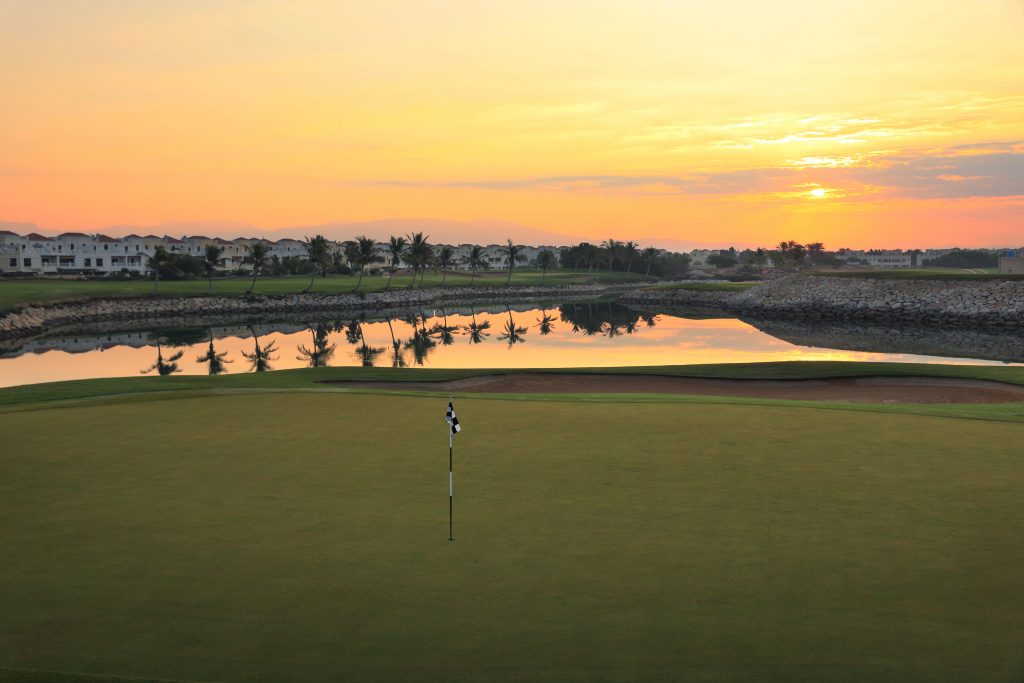 It's no secret that Al Hamra Golf Club is one of the UAE's favourite golfing getaways. The beautiful course is nestled between the Hajar mountains and the Arabian Gulf, offering a completely chilled out vibe and a real sense of escapism to visitors. You truly feel like you're on holiday and it's only around an hour's drive from Dubai, making it the perfect destination for golf societies, lads' or ladies' trips! The format for the event will be a 4-man Stableford, with the best two scores from each hole counting. There will be lots of great prizes on offer and we're expecting places in this event to fill up very quickly so please get in touch to book your spot or register your interest while there's still time!
---
DoubleTree by Hilton Resort & Spa Marjan Island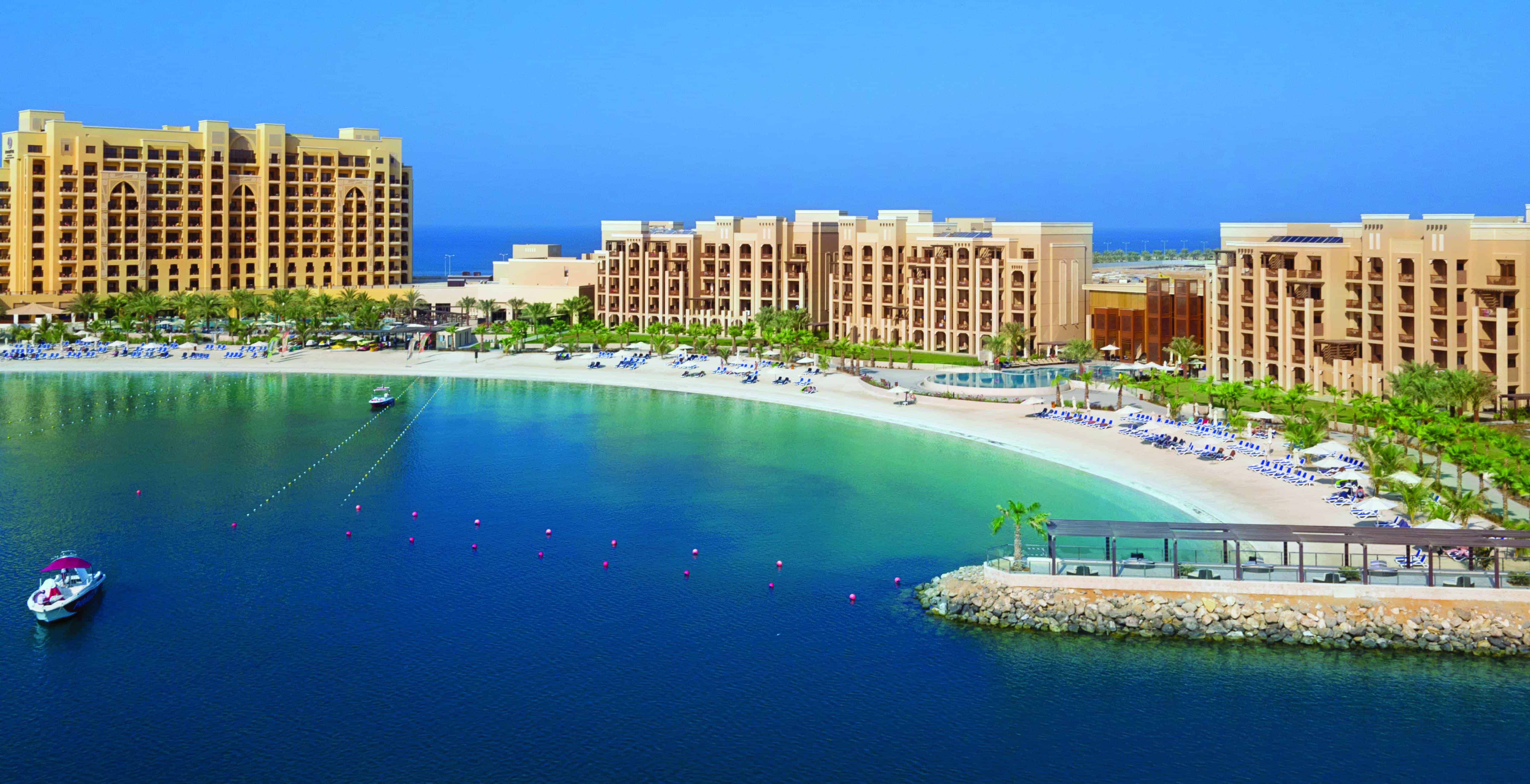 The resort was the first to open on the prestigious Marjan Island, and is 50 minutes away from Dubai. There are a host of local attractions in close proximity that guests can enjoy in addition to the fabulous Al Hamra golf course and the hotel provides complimentary transportation to Al Hamra shopping mall.
There are 723 spacious and contemporary guestrooms, deluxe rooms and suites, in addition to the all-new Bay Club rooms, all overlooking the 650-metre white sandy beach. There are eight swimming pools including two kids' pools, one indoor pool and a unique floating sea pool. With 14 restaurants and bars to choose from diners are spoilt for choice. These include two all day dining restaurants, a lobby lounge, four A la Carte restaurants, a Brasserie offering a wide variety of French cuisine favourites, Vespa Italian restaurant, Meze restaurant offering authentic Turkish cuisine and Sanchaya which has a wide spread of modern Asian delicacies. There's also, Anchor Bar, Boardwalk and Bay view pool bars.
To ease away the aches and pains of a tough day on the golf course there is the luxurious spa, boasting seven treatment rooms a couples' treatment room and wet spa area. Guests can enjoy their stay at the resort by playing beach volleyball, billiards, table tennis, foot darts, giant chess, or just enjoy the beach or chill by one of the pools where umbrellas and towels all free of charge. Kids can have fun in the indoor kids' club with climbing wall, ball pit and arcade zone, or at extensive outdoor playground with trampolines, swings and slides.
They're sure to enjoy the Pirate boat aqua zone with four water slides, water buckets and sprinklers, in addition to Tarzan boat – the largest in the Middle East and an all-new attraction that is sure to make big waves and entice thrill seekers to experience the ultimate water playground. The resort was the first in Ras Al Khaimah to get certified by Bureau Veritas, the renowned world leader in testing, inspection and certification.
To register your team please email: [email protected]
For more information please contact: [email protected]
*Published rates only available until October 1st, 2021 after which amended hotel rates will be calculated according to room availability.